commissions
Noriko is a keen commissioner of new repertoire and is particularly interested in composers who highlight the many tone palettes she can offer as a pianist; or pieces which utilise often unusual instruments that contrast with the piano, creating different aural textures and new sound worlds. Featured below are pieces which have been written for Noriko, most also commissioned by her.
Noriko's current commission is being written by Mamoru Fujieda and is being conceived to sit within an all Debussy recital, the piece will receive its world première in Fukuoka City in August 2012.
Other world premières are upcoming so if you'd like to hear a first performance please look out for *** highlighted works.
Many territory premières are still available and if you are interested in investigating whether you can host a première in your country please contact us.
Graham Fitkin: Circuit, concerto for two pianos and orchestra
Duration: 20'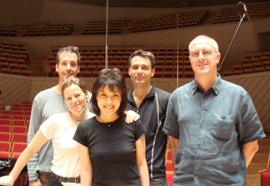 Recording
Circuit
in Kawasaki for BIS Records
Circuit was commissioned by the BBC for Noriko Ogawa, Kathryn Stott and the BBC Philharmonic Orchestra; it was premièred to great acclaim at the Bridgewater Hall Manchester on 21 March 2003 as part of Piano 2003.
Graham writes: "The piece is like a grid. The music is plotted quite precisely. It is constructed from five different musical blocks which are juxtaposed throughout the piece. The overall grid contains various mini grids each within its own set of rules and systems. As the piece progresses the operating systems of one block begin to affect its neighbouring music and so a gradual standardization of system occurs."
"I wanted to imbue the piece with a sense of urgency. The music barely stops for pause and the pianists certainly don't have much time off. I feel there is a sense of uncertainty throughout, although the music is often grounded in strong pulsing rhythms. Some blocks of music are 'switched' on, whilst others are prepared by preceding music. Some blocks of music have insistent repetitive patterns whilst others operate under less obvious rules. Generally there is a slight obsessive compulsive nature about the whole thing."
Dai Fujikura: Returning for solo piano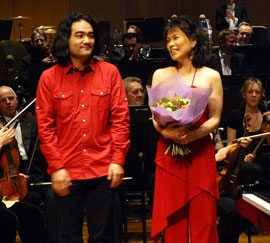 Dai Fujikura and Noriko Ogawa
Returning was commissioned by Noriko ahead of a larger piece, the concerto Ampere. Noriko was keen to have a miniature to focus ideas that might appear in the main work and also to play to potential co-commissioners of the concerto and act as a sorbet in recital programmes. Returning was premièred in Tokyo at Suntory Hall in February 2008 as part of Noriko's celebrations of 20 years as a pianist.
Dai writes: "Returning has been especially commissioned by Noriko. I am a big fan of her as a pianist and I especially like the way she makes the piano sing during quiet passages of music. I decided in this small solo piece that the dynamic range would be largely piano and pianissimo."
"Left hand and right hand play together, then quietly, the piece develops using only 3 basic rhythmic patterns. I also wanted to impose two main restrictions: the maximum number of notes played together to make a chord would be only three; the use of pedal is banned. These restrictions induced a feeling of melancholia, and also gave me a big headache! It took a really long time to write and I discarded much more than is heard in the piece. I have never composed music with this level of restriction, especially for piano which is an instrument with 88 keys and limitless possibilities. However, these restrictions have opened a new door for me. I think that the pieces I have written after this work are somehow different."
Dai Fujikura: Ampere, concerto for piano, toy piano (amplified) and orchestra
Duration: 22'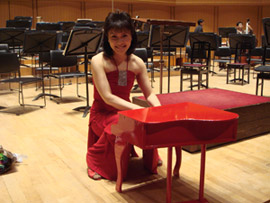 Japanese première, 2009
Piano (doubling toy piano)/strings /3333/ 4331/ timp. + 3perc/
Ampere was conceived from Returning and was co-commissioned by the Philharmonia Orchestra and Nagoya Philharmonic Orchestra for Noriko. The world première was at the Royal Festival Hall in February 2009; the Philharmonia were conducted by Martyn Brabbins. The Japanese première was later that year and was conducted by Thierry Fischer.
For further information and sound clips visit: http://www.daifujikura.com/un/listofworks.html
*** Yoshihiro Kanno: Earth Stream, piano (4 hands) and percussion
Noriko commissioned Earth Stream for Dame Evelyn Glennie, Philip Smith and herself to be premièred at Muza Kawasaki Symphony Hall in May 2007.
Earth Stream receives its UK première on 28 January 2012 at Bridgewater Hall following a performance by the three artists of Bartok's concerto for two pianos and percussion with Manchester Camerata.
*** Yoshihiro Kanno: 'A Particle of Piano' Trilogy
Duration c.13' each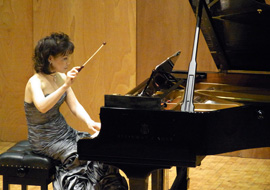 Performing Kanno 'A Particle of Water'
Noriko commissioned a ground-breaking series of three recital pieces from her friend Yoshihiro, Japanese composer and Professor of Engineering and Technology at Waseda University. The pieces feature the piano alongside various traditional Japanese instruments or sounds creating unique sound worlds; the first for Nambu bell and piano Hikari no Ryushi (A Particle of Light), followed by Mizu no Ryushi (A Particle of Water) for metal chopsticks and piano, and finally Niji no ryushi (A Particle of Rainbow) for piano and Kabuki Orgel.
A Particle of Light for piano and Nambu Bell premièred at Gregynog Festival in 2010 and was broadcast on BBC R3, performed at Grieg's house in Bergen in 2009 and at Lot Piano festival in France.
A Particle of Water for piano and Myochin Hibashi Chopsticks premièred at Gregynog Festival in 2010 and was broadcast on BBC R3 and at Muza Kawasaki Symphony Hall.
A Particle of Rainbow for piano and Kabuki Orgel was premièred at the Guildhall School of Music and Drama and at Muza Kawasaki Symphony Hall in 2011.
The three pieces have yet to be performed together and will receive their première as such at Reflections on Debussy, Bridgewater Hall in 2012.
*** Yoshihiro Kanno: Sora no meiro (Sky Maze), piano and organ
This mesmeric piece was commissioned by Noriko and will receive its world première at Bridgewater Hall on 25 May 2012 as part of Reflections on Debussy - if you would like to be a part of this exciting event please purchase tickets from http://www.bridgewater-hall.co.uk/performance/16957.aspx.