outreach
Living in, and travelling between, both London and Kawasaki, Noriko is very aware of the privileged world in which she performs and has always sought to use her position as a classical performer to support the communities she works with and causes she believes in. Never has this been more readily seen than in her tireless work in March 2011 to raise funds for The Red Cross Japanese Tsunami Appeal. Through her fundraising concert at Kings Place and due to the kind support of fans and promoters she was able to raise over £20,000 to support those devastated by the disaster. You can see a clip of her discussing the issue on BBC Newsnight, shortly before her concert.
Noriko is also a keen advocate for music education and has supported this in many ways in the past, both through recording ABRSM pieces for release to aid students learning and in raising funds in local communities.
Please find below a little more information on two of the causes closest to Noriko's heart.
The Japan Society
Noriko's current fundraising efforts are for The Japan Society to continue to support those devastated by the Tsunami and its after effects.
Noriko has helped design four cards with Two Bad Mice, profit from the sale of these cards goes straight to The Japan Society. To purchase cards and read more please visit http://www.japansociety.org.uk/earthquake/le-chat-noir-cards/.
Jamie's Concerts
When Noriko first moved to the UK she lodged with the family of a child with severe autism, Jamie. Jamie is a lively and handsome boy who due to his autism has never spoken. Over time Noriko became acutely aware of the demanding lives of those who care for children like Jamie. Noriko and Jamie's mother Janice spent many long nights together chatting and drinking tea waiting for a wakeful and distressed Jamie to calm down and rest. Noriko desperately wanted to help but Jamie always demanded his mother's attention and it became clear to Noriko that when Janice was calm Jamie was calmer too. Noriko saw her role would be to help 'behind the scenes' and the seeds of the Jamie's Concerts idea were planted.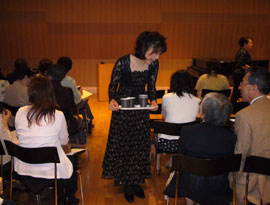 Noriko serves tea and biscuits after the performance
The first Jamie's Concert was held on 18th November 2004 in the Small Hall at Muza Kawasaki Symphony Hall. It was an instant success with every subsequent concert quickly sold out. The 10th Jamie's Concert will be held there on Thursday 21st June 2012.
Jamie's Concerts are designed to fit perfectly into the demanding lives of parents and carers like Janice and so they start at 11am and end before the school day is over. After the concerts Noriko serves tea and biscuits, and the audience have a chance to chat in a relaxed atmosphere. The setting provides a rare opportunity for families and carers to get together in a non-institutionalised setting and can be a welcome respite from the demands of caring for a child with autism. Children with autism are very welcome at the concerts but Noriko understands that not all are happy in such an environment and so leaves that decision to the discretion of parents and carers.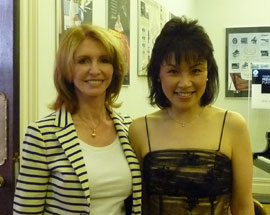 Jamie's Concert UK © Yamaha/Chappells
The first Jamie's Concert in the UK was held on 27th May 2010 and was a resounding success. Noriko has loyal Jamie's Concerts Committee Members in Japan and hopes to find similarly motivated and capable members in the UK. Jamie's Concerts visit Manchester as part of Reflections on Debussy in 2012.
Much wonderful work is done on behalf of those who have autism by committed and caring individuals and organisations, but the unique feature of this charity is that it specifically aims to raise awareness of the plight of families and carers and to support them by saying 'we understand'. With this in mind, Noriko has created Jamie's Concerts wristbands and hopes that they will help to get this important message across to as wide an audience as possible. These fashionable wristbands, designed by Irene Ramejkis, are available for purchase at Noriko's concerts.