news
In this section you will find Noriko's latest news, we hope you enjoy sharing some of her highlights from the last few years.
Guildhall School of Music & Drama - November 2017
Noriko was awarded a Fellowship of the Guildhall School of Music & Drama by the Lord Mayor of London at the Great Hall, Guildhall on Friday 3 November.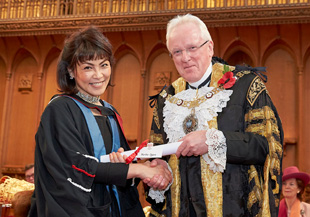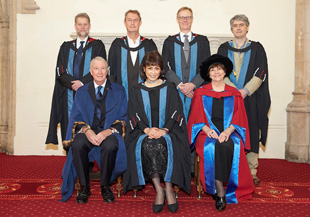 Photos © Clive Totman
BBC Radio 3 'Record Review' - 30 July 2016
Andrew McGregor comments on Je te veux, excerpt from Satie vol. 1:
"It's not just the period instrument that makes the difference ... that characterful late nineteenth century Erard piano whose distinctive timbres and relative transparency of tone compared to modern concert grands subtly tempers our understanding of Satie's harmonies. There's also Ogawa's playing, 'the same qualities of clarity, articulation and musicality that make her solo Debussy such a pleasure. Wishy-washy Satie this is not.' It's a well structured recital as well."
Also see the new issue of Pianist Magazine, out end of July (issue 91, Aug/Sept 2016) in which Noriko talks to Erica Worth about Satie's music.
Jamie's Concerts in 2015
Jamie's Concerts are going from strength to strength. Teaming up with the National Autistic Society and Guildhall School of Music and Drama, Noriko is hoping the idea of 'Jamie's Concerts' will spread wider. To find out more about Jamie's Concerts, please visit our newly designed websites:
Other pages of interest:
Details of Jamie's Concerts in Manchester (22 April 2015) and London (5 May 2015) are available on the concerts page.
Noriko Ogawa, Honorary Patron of Ipswich Orchestral Society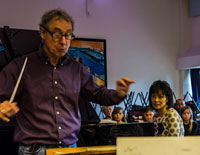 On Saturday 28 June, 2014, Noriko will perform Beethoven's Piano Concerto No. 4 in G major, Op. 58 with Ipswich Orchestral Society, with Adam Gatehouse conducting.
February 2013 marked Noriko's new association with the Ipswich Orchestral Society as an Honorary Patron.
Photograph from Ipswich Orchestral Society rehearsal conducted by Adam Gatehouse at Ipswich School, June 2014. (Credit: Mary Dickinson)
Japan Culture Week, Iran - October 2013
Noriko will give solo recital and concerto performances in Tehran and Shiraz as part of Japan Culture Week 2013.
The solo recitals will take place at Niavaran Cultural Center, Tehran on Thursday 24 October, and Hafez Hall, Shiraz on Friday 25 October. Noriko's performance of Mozart Piano Concerto No. 9 with the Tehran Philharmonic Orchestra will take place at Vahdat Hall, Tehran on Saturday 26 October.
Download the full programme [PDF, 1.1MB] or visit the Embassy of Japan in Iran website for further information.
Autumn appearances on BBC Radio 3 and BBC Four - 19 September 2012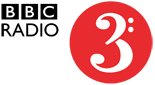 On Monday 1 October Noriko's lunchtime recital at Wigmore Hall was broadcast live on BBC Radio 3 (read the Bachtrack review).
Noriko will also appear during coverage of the Leeds International Piano Competition 2012 on BBC Four.
All programmes start at 7.30pm: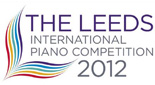 Friday 21 September - watch on BBC iPlayer (until 2 November)
Friday 28 September
Friday 5 October
Friday 11 October
Friday 19 October
Friday 26 October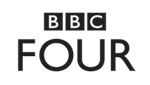 Presenter: Suzy Klein
Experts: Tom Poster and Noriko Ogawa
Conductor: Sir Mark Elder
Halle Orchestra
Leeds Town Hall
On Saturday 27 October, Noriko and Kathryn Stott will perform Graham Fitkin's Circuit with the BBC National Orchestra of Wales conducted by Grant Llewellyn. This gala concert, the final concert of the BBC Radio 3 Piano Festival, will take place at the Hoddinott Hall, Cardiff.
Pianist magazine 2012 Amateur Piano Competition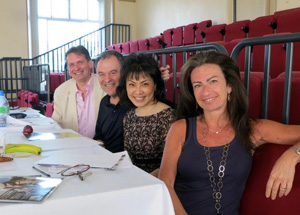 On 22 August, Noriko appeared as adjudicator in the the live Final of the unique 2012 Amateur Piano Competition presented by Pianist magazine, Yamaha and Chetham's School of Music at the Royal Northern College of Music in Manchester.
https://www.pianistmagazine.com/
Noriko is pictured here with fellow judges Murray McLachlan, Michael Roll and Pianist magazine editor Erica Worth.
BBC Radio 3 "CD Review" programme
Andrew McGregor has given Noriko Ogawa and the Malmo Orchestra's recording of Rachmaninov's 1st and 4th Concertos a glowing review on CD Review. Noriko Ogawa's playing is "very personal…with a core respect for the music". For further information please visit the BIS website or Amazon.co.uk.
'Out of Silence' released on 25 June 2012

Noriko Ogawa's Japanese translation of Susan Tomes's critically acclaimed book Out of Silence was released on Monday 25th June 2012. Out of Silence is a diary of a year in Susan Tomes's life as a performer.
Taking as its inspiration Schumann's remark that 'I am affected by everything that goes on in the world, and I think it all over in my own way', it aims to show how a working musician mulls over and draws energy from the events of everyday life. Noriko has spent over a year carefully translating this wonderful book into Japanese and is delighted with the results.
Published by Shunjusha, the book is available in shops in Japan and from Amazon.co.jp.
BBC Radio 4 "Today" programme
Noriko Ogawa appeared on BBC Radio 4's "Today" Programme on Friday 25th May, discussing the Myochin Hibashi chopsticks used in Yoshihiro Kanno's piece 'A Particle of Water' which will be performed in the final concert of Reflections on Debussy at Manchester's Bridgewater Hall on Saturday 9th June 2012.
To listen again please visit BBC iPlayer, or for a video clip, visit the BBC News website.
BBC Radio 3 "Afternoon on 3"
On Wednesday 25 April at 2.00pm, Afternoon on 3 will feature French music, centred around the Reflections on Debussy series celebrating the 150th anniversary of his birth.
The broadcast will include Noriko Ogawa's recent performance of Takemitsu's Riverrun with the BBC Philharmonic, recorded on Saturday 21 April at Bridgewater Hall, Manchester as part of the Reflections on Debussy series. Debussy's La Mer will also be heard alongside watery evocations by Britten and Dvorak.
Noriko Ogawa presents Saturday Classics
Noriko Ogawa will present BBC Radio 3's 'Saturday Classics' on Saturday 7th April at 3.00pm. A personal view of classical music from a range of presenters, Noriko will present three episodes, playing a selection of her favourite recordings to illustrate her life in music. Includes works by Debussy, Mozart, Bach and Liszt.
This coincides with the second stage of the Reflections on Debussy festival at the Bridgewater Hall, Manchester, beginning with Noriko's performance of Debussy's Preludes on Sunday 15th April.
New Year, new look Noriko!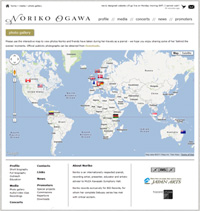 Interactive photo gallery
Launching her new website, new boxed set on BIS, Reflections on Debussy festival and a new competition with Yamaha and Chethams, Noriko introduces her musical must-haves for 2012.
We are delighted to announce that Noriko Ogawa's new website will be online on Monday 12 December, featuring new media clips, resources and images; this is a timely re-introduction to Noriko before Reflections on Debussy at Bridgewater Hall commences in the New Year. The festival has been heavily featured in recent articles in Classic FM, Pianist Magazine, Creative Boom, Classical Music and International Piano Magazine and provides unique experiences and collaborations to look forward to.
You can also follow Noriko on Twitter as the festival unfolds: https://twitter.com/norikogawa
"…To this day, Debussy remains Ogawa's favourite composer. Her special connection to his music has delighted audiences throughout her career - her complete Debussy cycle on the BIS label won the Gramophone Editor's Choice award and remains a gold standard Debussy recording, and her live performances have enthralled critics the world over…"
International Piano Magazine
"…Forget about the Impressionist label 'Reflections on Debussy' will help us to see Debussy in a new way…"
Classic FM Magazine
We are also excited to announce that Noriko will adjudicate a new competition for amateur adult performers, in association with Chethams School of Music, Yamaha and Pianist Magazine. More information can be found at: http://www.pianistmagazine.com/information/2012Amateurcompetition
BIS release Debussy Complete Piano Music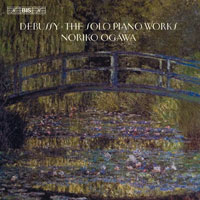 Debussy - The Solo Piano Works
Released on five separate discs, Noriko Ogawa's traversal of the solo piano music of Claude Debussy has been receiving consistent praise in the international music press, with distinctions such as Gramophone Editor's Choice (twice); a top recommendation ('10/10/10') on the German website Klassik Heute, 'Recording of the Month' on MusicWeb International.com and 'CD of the Week' on BBC Radio 3 CD Review.
Along with general acclaim for Noriko Ogawa's approach to the music ("a Debussy interpreter of exceptional class" - International Record Review; "a most elegant, scrupulously sensitive interpreter" - Gramophone), performances of individual works and sets of works have been singled out. In BBC Music Magazine Ogawa's Images and Children's Corner were named benchmark recordings, while Classica-Répertoire placed the second book of Préludes and the set of Études among the most important and convincing versions in the discography. Less well-known works have also been cited, such as the piano score of the children's ballet Boîte à joujoux ("A superlative performance… worth the price of the disc alone" - Gramophone) and Debussy's own transcription for solo piano of Six Épigraphes antiques ("the pianist creates a poetic atmosphere which leaves the listener breathless" - Classica-Répertoire).
The original five discs have now been brought together as a boxed set with the addition of a sixth CD, containing Noriko Ogawa's previously unreleased recordings of Debussy's only work for piano and orchestra, the Fantaisie pour piano et orchestre from 1890, and five school fugues, written as part of Debussy's training at the Paris Conservatoire, and transcribed from the original manuscripts for this occasion.
June 2011 - Noriko Ogawa appointed Associate Artist

Noriko Ogawa is appointed Associate Artist at The Bridgewater Hall. She will lead The Bridgewater Hall's Debussy celebrations, which form the centrepiece of the International Concert Series 2011-12.
PRESS RELEASE:
The Bridgewater Hall in Manchester is proud to announce that the internationally acclaimed pianist Noriko Ogawa is its latest Associate Artist.
She joins Harry Christophers' choir The Sixteen and the New London Consort on the Hall's list of creative partners, who work with the venue's management on innovative programming ideas to help take audiences on ever more exciting musical journeys.
Noriko Ogawa's new role is central to the launch of the Hall's 2011-12 International Concert Series, when she will lead a celebration of Debussy's 150th anniversary, focussing on the composer's special relationship with Japan and the East.
The Reflections on Debussy festival is a series of eight concerts taking place from January to June 2012 which will see The Bridgewater Hall joining forces with the BBC Philharmonic following the successful Mahler in Manchester's series during 2010 in which both organisations played a major role.
The Reflections on Debussy festival will be a fascinating exploration of his major orchestral and piano works, and also his influence on Takemitsu and living Japanese composers. Noriko Ogawa's imaginative list of musical collaborators include violist Nobuko Imai, violinist Kyoko Takezawa as well as her English musical partners Martin Roscoe and Kathy Stott.
June 2011 - Fundraising success for Noriko Ogawa

Noriko has raised a staggering £21,203.09 for the British Red Cross Japan Tsunami Appeal through a number of fundraising concerts across the UK, including at Kings Place, London. Noriko, who was at home in Japan at the time, feels fortunate to have survived the earthquake and immediately set about raising as much money as she could doing what she does best - performing. As the operation moves out of the relief and into the recovery phase Noriko hopes to continue raising money to help rebuild the Muza Kawasaki Symphony Hall in her hometown which was badly damaged by the earthquake.
March 2011 - Noriko raising Tsunami funds and on BBC
On Wednesday 30 March 2011 Noriko will be giving a fundraising concert at Kings Place, London, to help raise funds in aid of the Japanese Tsunami Appeal by the British Red Cross. Further details will be available in due course and tickets can be purchased through Kings Place - all proceeds from the concert will be given to the Red Cross appeal.
Noriko, who was at home in Japan at the time, feels fortunate to have survived the earthquake. Noriko is scheduled to appear on Woman's Hour, BBC Radio 4 on 29 March, and the programme will also highlight the ongoing situation in Japan.
December 2010 - Out of Silence - Noriko Ogawa to translate Susan Tomes' book

Noriko has been commissioned by Shunju-sha, a Tokyo publishing house specialising in books on the arts, philosophy and memoirs, to translate Susan Tomes' book Out of Silence into Japanese. Out of Silence is a diary of a year as a professional pianist and "aims to show something of how everyday life provides ideas for the task of understanding music". Named one of the 'Best Books for Christmas 2010' by The Independent, Out of Silence has been received with wide critical acclaim.
"…Tomes has the unique gift of answering questions about the musical life that every other literary register seems to overlook… these pieces explain pianism with a warmth and shrewdness that shelves of theory will never match… Open this insightful and delightful book on any page and learn with pleasure…"
The Independent, July 2010
Noriko Ogawa, in addition to being a world renowned pianist, is also known in Japan for her regular column in Japan's Music Magazine Musica Nova (2002-2007) and for her articles about music and musicians.